How I got here
I first thought about music at a very old age. I never really listened to it until about 7th grade. I then went crazy with it, almost like it was the missing link to my life. My cd collection started to explode. When I lived back in Washington, I tried many times to start up a band to jam with. I failed everytime. Then when I was 16, I moved with my family to Minot, North Dakota and ran into Rob Puckett. Rob played drums at the school drum line and I had picked up guitar just recently. We came up with the name "Undercast". Soon after, Rob talked to Chris Barney, a guitar player in a band called "Ceasing Hope". "Ceasing Hope" at the time didn't have a drummer or a vocalist. It seemed like a perfect fit for us to join them. We then got together and I asked everyone if they would like to keep the name Rob and I had. We finally all accepted it. The problem was that we only had about about 3 real practices. always missing Chris or Rob. We were never together, always missing Chris or Rob. Than a month after Rob and I joined the band, Rob quit. For the whole summer, Zach, Derek and I would get together just to keep it all alive.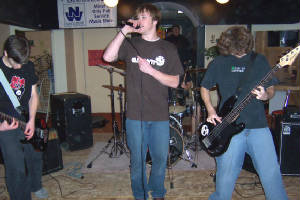 First Concert
My Inspiration
People - Justin Turconi, Amanda Curl, Rob Puckett.

Bands - Brandnew, Finch, 311
Brands
NADY

Peavey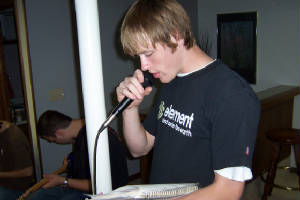 Beginning of Merick
When school started in 04, a new drummer had moved here from Maryland. Justin was well fit to join our band. Right after, we decided to change our band name to "Merick", due to the name was already taken by a band in Chicago. I came up with the name one night while I was playing with words. The name I liked was "Maverick", but no one liked it and it was already taken. So I took off the "av" and came up with "Merick". There are no hidden meanings the the name, just made it up. When Justin joined, we set up a scheduled practice time and began writing music right away. Justin was a huge insperation to me. He helped push me into what I now do on my own. I don't think that I would be where I'm at without his guidance. His mother was also a great help to me. She almost seemed like the mother of the band, helping us out, taking pictures, and giving us advice. Soon after our third concert, Justin moved back with his sister to Maryland, leaving us without a drummer. We all then agreed to sign on Dereck Ostdahl as our new drummer. He jumped right in and caught on real fast. I find that when I think of how I got to this point, its almost like it was planned for me. It seems to get better with every month!
Other Skills Contributed
Web Designer, Merick Art Creater